Tower Showers

Easy to Fit - Vandal Resistant
Pre-plumbed Tower Showers, made from robust 316 Stainless Steel, are designed to fix straight on to a wall thus offering a safe, attractive and easy to install high security showering solution.
WATER AND ENERGY SAVING
The Tower Showers (c/w High-risk Showerhead) come with your choice of either electronic "No-Touch" Sensor, electronic Touchpad Switch or Manual Push Button operation. The electronic "No-Touch" Sensor and electronic Touchpad Switch kits both have pre-set (but adjustable in the Control Box) valve open times per operation.
The Manual Push Button operation will self close within approximately 40 seconds.
Ceiling Height Tower (available with or without built-in TMV3)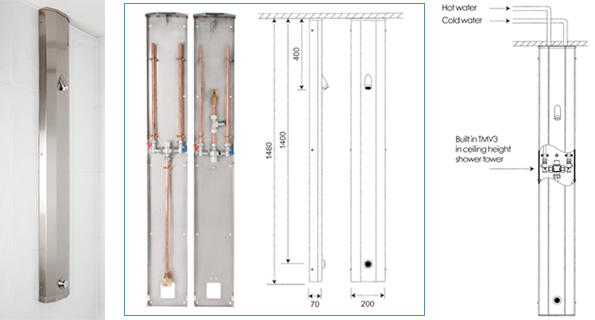 Ceiling Height Tower Showers are taller and wider than the standard version so you can hide all the pipework from the ceiling. The optional TMV3 Tower Showers look the same as the Ceiling Height Tower Showers but incorporate an integral TMV3 approved Thermostatic Mixing Valve. If you use a Tower Shower without an integral TMV3 Thermostatic Mixing Valve, you should provide your own pre-mixed temperature water to the shower to prevent scalding if the cold water fails.
Standard Tower (not available with built-in TMV3)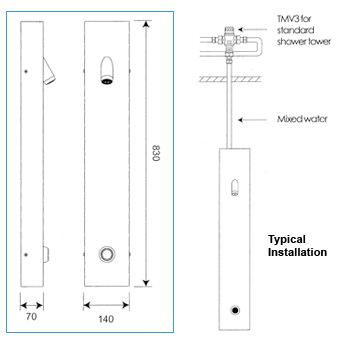 Order Codes
Standard Tower Shower (please provide a separate TMV3)
Towers-STS-Push
Towers-STS-Sensor-M/HP
Towers-STS-Touchpad-M/HP
Ceiling Height Tower Shower (please provide a separate TMV3)
Towers-CHT-Push
Towers-CHT-Sensor-M/HP
Towers-CHT-Touchpad-M/HP
Ceiling Height TMV3 Tower Shower (fitted WITH integral TMV3)
Towers-CHT-TMV3-Push
Towers-CHT-TMV3-Sensor-M/HP
Towers-CHT-TMV3-Touchpad-M/HP
Standard high pressure (HP) solenoid valve is rated for water pressure 0.5 bar - 6 bar. Manual Push operation requires water pressure 1.5 bar - 5 bar
All kits are mains powered kits, with low voltage 12V PSU (Optional battery powered kits available on request)