Limescale Control

Controlling limescale with Hydroflow
The most advanced development in the fight against encrusting limescale.
Effective on all types of pipework.
Maintenance Free - just fit and forget.
Easy to Install - no plumbing or chemicals required. Ideal for both new build and retro fit projects.

The Problem
Limescale builds up in heat exchangers, pipes, pumps, boilers and appliances connected to the system. This usually results in reduced flow rates, loss of efficiency and early failure of components.
Just 2mm of encrusting limescale adds approx 20% to your heating bills. Get rid of limescale and reduce your energy bills.
The Solution
Hydroflow not only prevents the build-up of encrusting limescale in plumbng systems, but it also helps remove encrusting limescale. Thus Hydroflow:-
Saves energy and reduces heating costs.
Reduces maintenance costs and "downtime".
Prolongs the life of plumbing and heating equipment.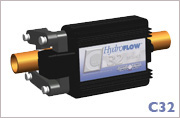 C32 for pipes up to DN32 (or 38mm outside diameter)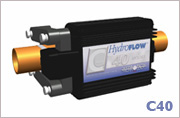 C40 for pipes up to DN40 (or 48mm outside diameter)
Hydroflow Works... Consistently
Hydroflow water conditioners are unique, no other product works the same way. Based on advanced technology integrating ferrite with solid state electronics, Hydroflow transmits a powerful signal longitudinally throughout the entire plumbing system continually treating the water 24 hours a day. The signal works both up and downstream even in no flow conditions ensuring consistent and reliable protection.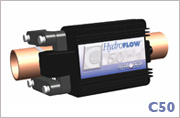 C50 for pipes up to DN50 (or 60mm outside diameter)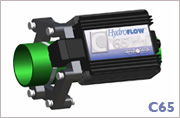 C65 for pipes up to DN65 (or 85mm outside diameter)
Most Vulnerable Area... Protected
Hydroflow is installed close to the area where the most encrusting limescale is created, at the point of the heat exchange or pressure change. This ensures that maximum protection is given to the most vulnerable area. However, since the signal travels everywhere in the system, all parts are protected.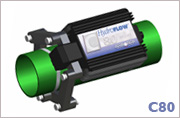 C80 for pipes up to DN80 (or 100mm outside diameter)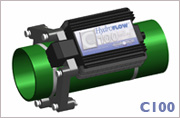 C100 for pipes up to DN100 (or 120mm outside diameter)
Technically Minded...?
Randomly varying electric fields are induced into the water and propagate throughout the entire plumbing system. These electric fields cluster the ions in the hard water resulting in the production of nuclei (seed crystals) everywhere in the system. When water is heating, the resulting precipitate that usually deposits on hot surfaces as encrusting limescale, grows in suspension and is then washed away in the flow. The fields treat the water both up and downstream and will also transmit to the primary circuit. The treated water is normally able to dissolve existing scale in just a few weeks.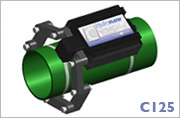 C125 for pipes up to DN125 (or 135mm outside diameter)
Installation...Made Easy
The compact tranducer unit fits all types and sizes of pipework, from 30mm to 200mm O/D. Designed for easy installation, the unit simply straps around the pipe and is connected through the power unit (PSU) to the mains supply with the cables / connectors supplied.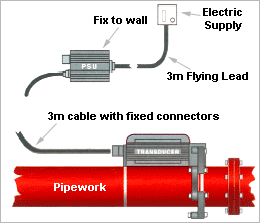 | | | | |
| --- | --- | --- | --- |
| MODEL | For Pipe Sizes (mm) up to maximum | Universal Input Range (PSU) | Weight kg |
| C32 | DN32 / 38mm O/D | 87-240 VAC/47-63 Hz | 4 |
| C40 | DN40 / 48mm O/D | 87-240 VAC/47-63 Hz | 4 |
| C50 | DN50 / 60mm O/D | 87-240 VAC/47-63 Hz | 4 |
| C65 | DN65 / 85mm O/D | 87-240 VAC/47-63 Hz | 5 |
| C80 | DN80 / 100mm O/D | 87-240 VAC/47-63 Hz | 5 |
| C100 | DN100 / 120mm O/D | 87-240 VAC/47-63 Hz | 5 |
| C125 | DN125 / 135mm O/D | 87-240 VAC/47-63 Hz | 5 |
O/D = maximum outside diameter of pipe unit can be fitted to.
Dimensions (all models): 250mm (L) x 72mm (H) x 138mm (D)
Installation Tips
Do not fit Hydroflow on the water supply pipe into a cold water storage tank. The signal will be lost with little or no benefit.
Fit Hydroflow after any booster sets or pumps.
If fitting Hydroflow to pipes that will get hotter than 55°C, you must use non metallic insulation to protect Hydroflow.

Domestic Model HS38
Specifications for domestic models

Activity monitor light operated by feedback to show correct operation.
Manufactured to ISO9000 and meets all standards.
Reliable solid state circuits.
12 VAC. 100ma.
Maximum power: 1.2 watts.
Weight approx.: 175 grams.
Height: 110mm / Width: 67mm / Depth: 30mm
Explanations
> For an explanation of Hydroflow domestic electrical loop click here
> For an explanation of Hydroflow commercial electrical loop click here